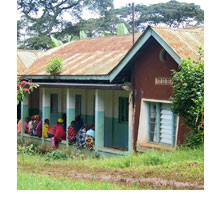 Physician Missions to Africa & Central America
Knock Foundation, in conjunction with United Therapies and the Earth Institute at Columbia University, sponsors ongoing medical trips to Ghana, Swaziland, Kenya, Ethiopia and Nicaragua. These missions are in furtherance of the Earth Institute's Millennium Cities Initiative, to help selected areas complete an urban transformation by halving extreme poverty and creating the conditions for sustainable economic development.
Last year, working in Mekelle, Ethiopia a team of Urologists treated dozens of patients, while training local doctors in the latest in medical care. They treated a variety of problems including patients who had been impaled by an ox, urethral damage from a lightning strike, many open prostatectomies, cystoscopies and resections. In addition the team performed a life-saving, 7-hour surgery (longest in the hospital's history) on a 3-year old boy who was born with his bladder protruding through his skin. A group of volunteers also traveled to Southern Ethiopia to work at an orphanage caring for 100 aids orphans.
As in past medical missions, Knock donated and shipped a 40 foot container of medical equipment and supplies to area Hospitals. According to a hospital staff member, "Knock provided supplies that they hadn't seen, but sorely needed, in over 3+ years". To date, Knock has shipped over $600,000 worth of medical equipment and supplies to Africa.
Upcoming Knock medical missions include:
A return trip to Ethiopia with a team of Urologists and a team of Cervical Cancer Specialists.


A return medical mission to Nicaragua in Central America.

Knock hopes that this is just the start of its Medical Missions Program and, working with its partners, United and the Earth Institute, anticipates sending at least one group of physicians to one of the sub-Saharan cities annually in the coming years.



Knock Director, Bruce Cohen, reflects on the trip: "Without question one of the greatest moments came when we went into recovery on Thursday morning to check on the patients treated the previous day and the 4 year-old girl who had a 5 kg (about 11 lb.) tumor removed from her stomach was sitting in bed crying. For the uninitiated, this might be cause for great concern, but not for the two doctors who spent 6 hours operating on her the previous day; her crying was almost as much a sign of recovery as a beating heart."