Tribe Magazine

Knocking Out Poverty
by Amanda Schwartz
August 20, 2010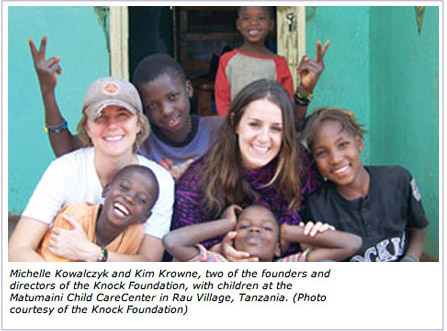 When Kim Krowne walks through Rau Village in northeast Tanzania, people continually call out to her with the Swahili phrase, "Karibu" (Welcome).
"You'll hear that 100 times," the 26-year-old co-founder of the nonprofit Knock Foundation said with a grin on a recent visit to her family's home in Northridge. "You hear that all the time, and I love it."

According to Krowne, this ubiquitous greeting reflects her overall experience of the country, from working in a health clinic when she first traveled to Tanzania in 2006, to her work with Knock to help underprivileged children and families become financially independent and self-sustaining.

"I fell in love with what I was doing, and there was this feeling that I had to stay there," she said. "Now, three and a half years later, that's what I'm doing."

Established by Krowne and four others in 2008, Knock has, so far, concentrated on communities in Tanzania and Kenya. The foundation's goal is to help expand opportunities for impoverished populations in Third World countries and will soon be developing its strategic plan for the next two years.

Previously featured as one of Los Angeles' Top 10 Mensches of 2008 in The Jewish Journal, Krowne has spent the past two years helping at the Mrupanga Primary School and expanding both the Poverty Eradication Piggery Project and Rau Village's Matumaini Child Care Center. Currently, 22 children, ages 6 to 15, most of them AIDS orphans, live at the center. New construction started in April of this year and includes a new dorm, a classroom, a dining hall and a kitchen, as well as an administrative block and housing for visiting volunteers. These additions will enable the center to support as many as 40 children.

The space will also function as an outreach center, which will allow the center to facilitate health workshops, vocational training and a variety of other community events. Even now, the center supports 50 other children who live outside the school, providing them with supplies and often paying their school fees.

After the construction is complete, Krowne would like to focus more on improving local education. The Tanzanian school system has both private schools and government-run schools. Although the publicly funded schools often lack resources, they also charge tuition — approximately $25 each year for primary school and $150 for secondary school. Although this is inexpensive compared to $1,200 per year the local private schools charge, it's still a hefty sum for most Tanzanians. Consequently, many families don't send their children to secondary school, which then limits their opportunities down the road. To help, Knock offers scholarships to local children for both primary and secondary schools.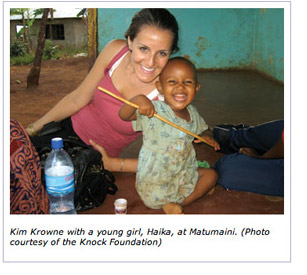 "Education is so important, and it's everything there," Krowne said. "If you haven't gone to secondary school, it's really hard to get a job. That's why we do the scholarship program."

Aside from a need for education, many children in Tanzania regularly go without meals, Krowne said. To counteract this, Knock has provided a lunch program for students at the Mrupanga School over the past two years.

"Often, that's the only meal many of those children get each day," she said. "And it costs only $15 to support one child's lunch for a full year."

Krowne also spends a lot of her time fundraising for Knock, organizing bowling nights and other events. Last year, the foundation teamed up with Krowne's alma mater, Sierra Canyon School in Chatsworth, to raise money to purchase more than 200 textbooks for the Mrupanga School. According to the Mrupanga teachers, the books have made a major difference for many of the children. On the end-of-year national exams, the Mrupanga School scored higher on average than all eight other schools in the ward.

Fundraising has also become a family affair. Krowne's father and Knock co-founder, Barry Krowne, raised approximately $65,000 for the foundation by climbing nearby Mount Kilimanjaro in August 2009.

Most donations, Krowne said, come from individual donors. "People always think they have to give a lot to make a difference," she said. "Just a little bit makes a difference. Even the little amounts go such a long way."

Digging trenches for new construction at Matumaini. (Photo courtesy of the Knock Foundation) mailto:kim@knockfoundation.org

This principle applies particularly well when you see how much a seemingly small amount of money can help one child or one family. One of Knock's goals is to help local families become more economically self-sufficient. To this end, the foundation supports the Piggery Project, which provides 50 families with pigs and necessary supplies. Raising pigs is a profitable business in Tanzania, Krowne explained. A lot of the work Krowne does in Tanzania depends on her command of the national language, Swahili, which she learned while studying African health at the University of Pennsylvania. Before Knock could begin expanding the Matumaini Center, the foundation needed to gain proper licensing for the land and jump through other bureaucratic hoops that tested Krowne's grasp of the language. However, one major cultural difference that has taken a while to get used to is Tanzanians' sense of time. "In Tanzania, everything takes much longer," she said. "Time is different there. If you have an appointment with someone at 10 a.m., they might show up at 12. And that's normal." Religion is also a source of cultural difference. In a country where the population is roughly split into Christians, Muslims and followers of a variety of indigenous faiths, many are unfamiliar with Judaism. Although the nearest Jewish community that Krowne is aware of is in neighboring Uganda, she has found general good will toward Judaism. One primary school teacher sought her out because she wanted to discuss similarities and differences between Judaism and Christianity. Other Tanzanians believe that Judaism is a wonderful religion, just based on the work Krowne has done to help local children and the community. Many are intrigued by Judaism's rarity in Tanzania. One teacher found out that Krowne and another volunteer were both Jewish. "She called me over excitedly — 'Kim! Kim! Kim! He's Jewish, too!' " Krowne said with a laugh. This summer, Knock provided community outreach workshops on HIV/AIDS for women and children in Rau Village as well as a life-skills seminar. Krowne hopes the foundation can also hold workshops for other nearby villages. Her trips home nourish her, even as she returns to Africa: "Bringing knowledge and experience back here is one of the best things," she said. To learn more about or to donate to the Knock Foundation, visit www.knockfoundation.org. You can also contact Kim Krowne directly by e-mailing kim@knockfoundation.org.

---
Read Article Online
---