Insight Teen Leadership Journey To Tanzania



Reflections from two teens who were on the trip
September 25, 2009
When asked to condense two life-changing weeks into a few paragraphs about my unbelievable experience, I found it very challenging; however, it can be done. For starters, my name is Sara Hilecher, and as of August 19th, 2009 when I returned to the LAX airport, I was and am a completely enlightened 16 year old. I had the outstanding opportunity to travel to Tanzania, Africa for two weeks to work with an AIDS orphanage and the local primary school as part of a collaboration between Insight Seminars and the Knock Foundation. Words cannot describe how amazing this dream of mine was and the deep love I felt for those people.



From the second we all got off the bus at the school, we were bombarded, kids screaming and cheering out of excitement. The language barrier was not even relative, because the statement stands strong, "Love is the universal language." We showed up with open arms and willingness to connect with them, and love is exactly what we got. We connected with them all right away, whether it was giving them a little tickle or head noogie, picking up a ball and throwing it to them or even singing and dancing.


I knew I would get attached to the children and I knew I would fall in love with them. But what I didn't know was the extent that my intentions took it. I had no idea it was possible to feel the way I felt about them after a short two weeks. Getting to see their culture and their unstoppable happiness for life is merely inspirational. They are happier with the little that they have and the community they live in than any American I've ever met who has excessive material items. Each and every one of them has this pureness, this love that no one can take away from them, and to see how the struggles they go through are 100% disregarded and forgotten, overpowered by hope and acceptance, is nothing but breathtaking.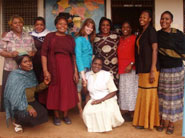 For as long as I can remember, it had been my dream to go to Africa to help the people and the community. When one sets an intention, pictures it, and is willing to do the work to make it happen, ANYTHING IS POSSIBLE. I held that image and knew someday I would be there. A year ago I had participated in as seminar called Teen Insight Leadership. Teen Insight is a series of self-betterment seminars, offered worldwide, and contains a Teen Insight I, II, III and Leadership program. There have been two groups of teens complete the Leadership training, and following the second seminar, we teens took the initiative as new leaders, to take the next step and spread what we've learned internationally. Long story short, with the intention of Africa in mind, I got in contact with the founder of the Knock Foundation, a very close family friend by the name of Kim Krowne, and with her help, and that of several Insight staff and parents, we teens put everything together to create our dream.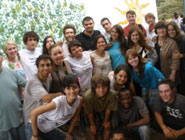 It was a one-year process, fundraising almost every weekend - from bake sales to babysitting to individual meetings with corporate sponsors, and at the end of the fundraising process, we ended up raising $125,000. We did it-teenagers with the simple intention and hearts striving to accomplish this seemingly impossible endeavor. And with that, we ended up painting the entire school, building a classroom, filling it with 21 desks, painting an inspirational mural, scrubbing the school's filthy walls, and much more. We also brought $250 worth of toys (A LOT of toys) dispersing them to everyone, consisting of jump ropes, soccer balls, yo yo's, harmonicas, baseball equipment and more. We donated a ton of school supplies to them, considering they have very little, and ended up giving them our battery operated sound system with microphones.

On top of the physical things, we led three different seminars for the various age groups about dreams, goals, and intentions, and they really began to understand the true meaning of a dream. These children have had very little opportunity to express what they want to be or anything about their feelings, for that matter. I heard some outstanding things such as "I want to be a soldier", "I want to be a nurse", and "I want to go to a university." Truly impressive and inspirational.



Many American teenagers take advantage of their education and dread the fact that they have to go to school. On the other hand, the kids in Africa want, more than anything, to go to secondary school (high school) and eventually a university, but can't because it costs $200 per year to attend a public high school and that is beyond most of their families means. Almost every American wants the updated camera, cell phone, laptop or ipod, while people in Africa don't even have electricity. They walk around wearing ripped up shirts and torn apart shoes. They don't even have the privilege of having clean water as it all contains chemicals that gets everyone sick. They have beds purely of sponge and a blanket as a pillow. Their backpacks are plastic bags and their pencils are sliced down the middle with less than an inch of lead in it. The little girls wear sticks in her ear piercings and are so fascinated by a simple earring.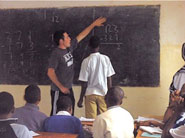 Every person I know wouldn't think twice about having a pencil, and if their backpack had a small hole, well, it's time for a new one. They go shopping AT LEAST three times a year and now own temper-pedic mattress and down comforter. We drink as much water as we can get our hands on and don't think twice about getting a disease as a result. As we 16 year olds, new to driving, complain about not having the car that we want, these Tanzanian children literally walk through corn fields to get from place to place.

Plain and simple: We are not grateful. At the end of the day of any African child's life, they have a smile on their face and run to anyone and give them a hug, not caring about what they lack and being SO extremely grateful to a new addition to their wardrobe (as I donated a few of my clothes that I took on the trip). I found myself giving them a pen, my earrings, my huge water bottles, paper, shirts, hair scrunchies, hand sanitizer, all of which I never think twice about. Getting that opportunity to truly be grateful for what I had is amazing.

Leaving those kids broke my heart. Their puppy dog eyes as they looked up to you with this look of pure love brought tears to my eyes and made my heart physically ache. One girl in particular, Selena was her name, never left my side. She managed to find me anywhere I was, and would latch onto me and not let go. It wasn't until I accompanied her to church one Sunday that she told me she didn't have a mom and that I was her new mom. Immediately tears filled my eyes and rolled down my cheeks and it was so shocking to see I had made such an impact being there for so short a time.



This trip was outstanding, hands down the best experience of my life. And I really encourage anyone if they get the opportunity to do this or anything like it to try reaching out. The act of service, being completely and 100% giving, is the best feeling in the world. Seeing people realizing that others care about them is unbelievable and makes me feel like I can achieve anything. So get out there and serve others. Whether it is stopping at a corner at a homeless person's "home" and giving them a dollar or two, or it's putting together a bagged lunch and giving it to a homeless person. Maybe it is reading to underprivileged children or volunteering at an orphanage. Service can even be giving your little sibling a hug or telling your parents you love them. Anything that makes someone happy is service, and it is not hard to do at all. Do it because you can. There is no limit, no rulebook to serving and giving.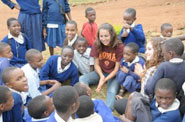 [Sara, in the photo to the left, was one of 17 teenagers who took part in the Insight Teen Leadership Seminar this past August and traveled to Tanzania, Africa].