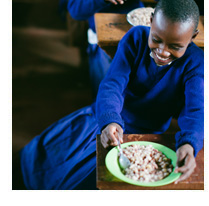 Lunch Programs
Government primary schools require families to pay an annual school fee, and although only about $35, many families cannot afford to pay. Consequently, children are denied schooling. The fee includes the cost of lunch for the entire year, which in many cases is the only meal a child may have in a day. Knock has been feeding lunch to the 400 students at Mrupanga Primary School (Grades K-7) each year since August 2008 and in 2011 added the 450 students at Longuo Primary School to our program. The lunch program grants incentives to parents to send their children to school so they can eat one nutritious meal each day. The byproducts of the program have been increased attendance at school and students more attentive during class.
Knock's goal is to continue providing lunch at Mrupanga and Longuo Schools and add new schools to the program as funds become available. Feeding a child lunch costs an average of $20 per student per year.
---
Scholarships
In partnership with several individuals and organizations, Knock is offering 31 educational scholarships in the year 2013. Five of these students are studying at a private English-medium primary school in Moshi and have all risen to the top of their classes. Many finished primary school in September 2012, and will be attending secondary school in 2013. The others are in various secondary school or technical programs. Knock is so excited to be offering the opportunity of education to so many hard-working and deserving students.
Our goal for the upcoming years is to build the infrastructure for a secondary school scholarship program and begin identifying worthy students whom we will sponsor. The cost of one full ride four-year government secondary school scholarship is USD 1,500. The cost of one full ride four-year private secondary school scholarship is USD 5,000.

Tulivu Kindergarten
Tulivu is a school for children between the ages of four and seven years old in the city of Moshi.  The school has between 35-50 students who are taught by one teacher alongside the headmistress, who owns the school with her husband.  A small, one-room building serves as the only classroom, often forcing three students to share one desk. The supplies available for the children are limited to some paper, pencils, crayons and a few books, and the majority of these are materials that past volunteers have left behind.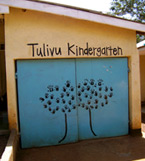 In September 2010, Jenny Galgano, a Cross-Cultural Solutions volunteer at the time, traveled to Tanzania to begin a program teaching English at Tulivu. Jenny's parents and brother Brian arrived in Tanzania to meet her after her volunteer program ended.  After learning more about Tulivu through their visit to the school, the Galgano Family has partnered with Knock Foundation to begin a project to bring much needed supplies and support to Tulivu Kindergarten.
Initially our goal is to build a small playground on the property and immediately purchase books and supplies to create an effective learning environment.  In addition, we plan to subsidize the purchase of the children's porridge. It is our goal to create a sustainable program to help support Tulivu for the years to come.